Today I'd like to take a little break from the parks and chat about all the fun Disney movies coming this year. Because as much fun as the parks are, that's not all Disney has to offer! Let's not forget that Walt himself got into the animation business first, then live action, and finally the parks. Flash forward around 80 years and here's what we have to look forward to from Disney this year!
Senior editor at variety, Marc Graser, tweeted out this awesome infographic showing the timeline for upcoming Disney movies. As you can see, there's lots to be excited about.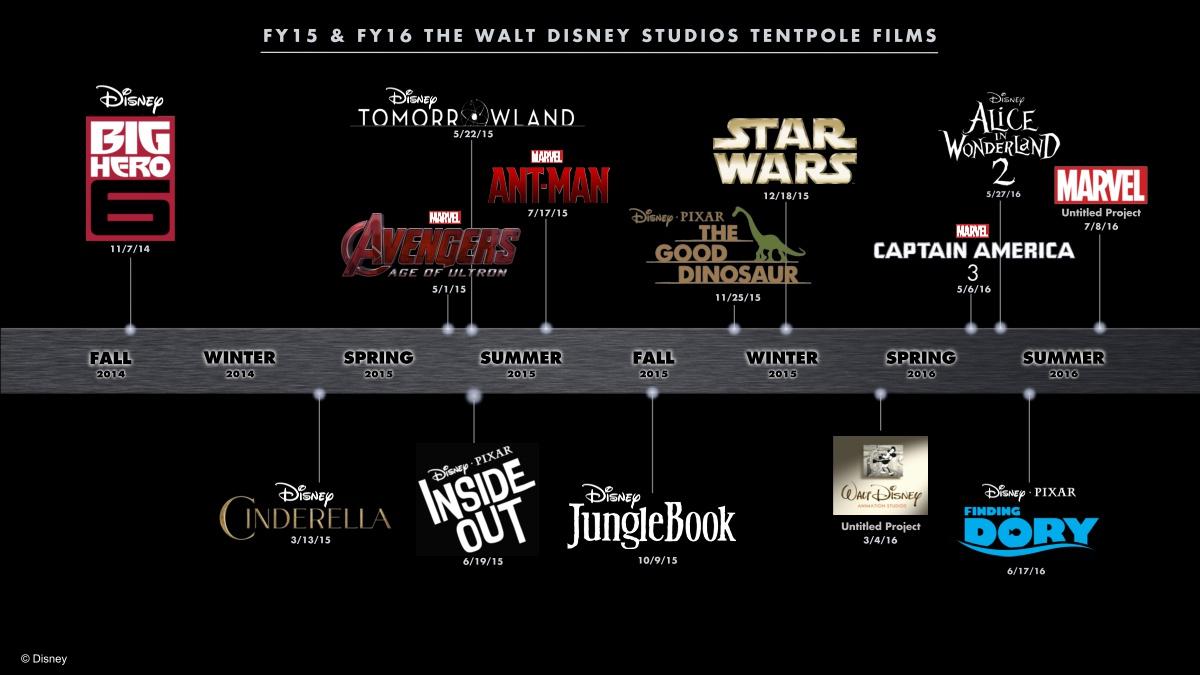 Cinderella
And the first movie of 2015 is coming out this weekend!!! Cinderella is the much-anticipated live-action version of Disney's classic animated feature starring Cate Blanchett, Lily James, Richard Madden, and Helena Bonham Carter. What makes this even more exciting for Frozen fans is that this feature length film opens with the new Frozen animated short, Frozen Fever!

 Marvel's Avengers: Age of Ultron
Next up on May 1st, is the highly-anticipated Marvel's Avengers: Age of Ultron! Being a big Marvel fan, I'm super excited for this movie and I know most Marvel fans are too! It's got all of the Avengers stars we know and love and is sure to be a big hit.

Tomorrowland
If you're excited for something a little different and a whole new story, then next up is a movie starring George Clooney and Hugh Laurie you won't want to miss! Tomorrowland releases May 22nd and looks to be a most fantastical journey!
Inside Out
Just a few weeks later, on June 19, Pixar's next feature called Inside Out is set to release and I absolutely can't wait for this one! I've always been a huge Pixar fan and this looks like another great movie that follows the Pixar formula. This movie, featuring the voice talents of Amy Poehler, Bill Hader, Lewis Black, Mindy Kaling, and Phyllis Smith is sure to be an interesting story as it follows the emotions of an adolescent girl.

Marvel's Antman
Paul Rudd is starring in Marvel Studio's July 17th release titled Antman. And I'm sure this one will be just as exciting as the Marvel's previous releases.

Skip ahead a few months to October and we'll be getting another live-action version of one of Disney's animated classics, the Jungle Book! And although both the Jungle Book and The Good Dinosaur don't yet have official trailers, I'm sure they'll be just as exciting!
Star Wars VII: The Force Awakens
And Last but certainly not least, and quite possibly the most anticipated movie of the year be it Disney or not, is Star Wars VII: The Force Awakens! This continuation of the Star Wars story features both old and new actors including Harrison Ford, Mark Hammill, Carrie Fisher, Lupita Nyong'o, Gwendoline Christine, Domhnall Gleeson, and Oscar Isaac, as well as Peter Mayhew and Warwick Davis. Directed by J.J. Abrams, this movie promises to fulfill the wants and needs of Star Wars fans everywhere!
Graser's infographic also features a few movies set for release in 2016, but I'm going to leave it here. Which movies are you most excited about?? Will you be seeing Cinderella this weekend? Let us know what you think either here or over on our fb page!! And thanks for following along. ~M ºoº